Alex, fitness sales agent sucked by 2 guys at his desktop in a non official scene.
Par Jean paul keumgay - Lien permanent
NOVEMBRE - NOVEMBER 2022

Click on the picture to watch the video teaser. - Cliquez sur l'image pour voir la vidéo promo.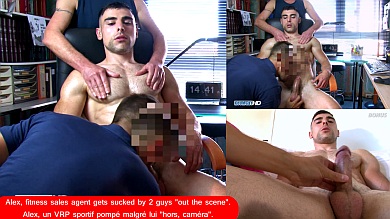 Here is the video where it all started. The trouble for the rest of the video started when our 2 assistants started to jerk off Alex's big cock who had only come for a solo.

As the 2nd assistant was really handsome and athletic, he let himself be done but this turned one of our assistants on so much that he grabbed Alex's stiff cock and sucked it hard.

Then Alex got his big cock sucked again this time at the office in front of a work desk.

He couldn't resist these 2 guys anymore and until the end of the shoot, his big cock was sucked in spite of him.

Here is this unprecedented moment when he gave up all resistance and let us have his big cock.

La vidéo d'Alex / 'Alex 's massage on :

---


Voici la vidéo où tout a commencé. Le dérapage pour la suite de la vidéo a commencé quand nos 2 assistants se sont mis à branler la grosse bite d'Alex qui n'était venu que pour un solo.

Comme le 2eme assistant était vraiment bel homme et sportif, il s'est laissé faire mais cela a tellement excité un de nos assistants qu'il s'est saisi de la bite raide d'Alex et l'a sucé avec force.

Puis Alex s'est encore fait sucer sa grosse bite cette fois-ci au bureau devant un bureau de travail.

Il ne pouvait plus résister à ces 2 mecs et jusqu'à la fin du tournage, sa grosse bite a été sucé malgré lui.

Voici ce moment inédit où il a abandonné toute résistance et où il nous a laissé sa grosse bite à disposition.