Enzo real str8 guy gets wanked by a guy -Enzo un vrai hétéro TBM branlé par un mec.
Par Jean paul keumgay - Lien permanent
NOVEMBRE - NOVEMBER 2022

Click on the picture to watch the video teaser. - Cliquez sur l'image pour voir la vidéo promo.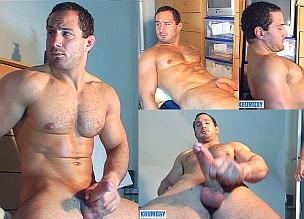 He came for a massage, he's got a handjob. We approached this sportsman in a fitness club. He was alone, we dared to talk to him about our massage videos without telling him more about the bonus. He came and for his 1rst time lifen a guy touched his huge dick ! It's a real straight man.

This is his BONUS video:

This is his quality video. His long WANK and Massage video with 2 cumshots.



La vidéo d'Enzo / 'Enzo 's massage on :

---




Nous avons abordé Enzo en salle de sport, comme il le dit sans gêne dans la vidéo de présentation.
Nous lui avons proposé de venir poser pour une vidéo de massages.
Il a dit ok si ce n'est QUE du massage.

Voici sa vidéo longue.

Nouveau montage Haute Qualité avec 2 éjaculations.
Un bonus où vous aurez le temps de prendre du plaisir à regarder ce mec TBM viril et un peu brut se faire branler son gros gourdin.
Un pur bonus en version longue.