Handsome assistant is stripped and sucked his huge dick during Alex's massage.
Par Jean paul keumgay - Lien permanent
OCTOBRE - OCTOBER 2022

Click on the picture to watch the video teaser. - Cliquez sur l'image pour voir la vidéo promo.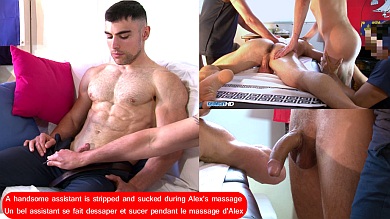 During the shoot, a hot and sporty assistant was in charge of massaging Alex with the help of our favourite masseur. As you can guess, this guy is a real sportsman and above all, handsome and TBM! This guy has already appeared in body and tail in Jan's video.

He swore that he would not make another video where his body was exposed, his cock was exposed in spite of himself and his male juices were pulled from his big balls in spite of himself but that was a resolution that did not hold up over time.

We offered him to come and help us for the umpteenth time with the shoot (he has participated in the last few videos but never appeared) and this time he liked the model so much that he agreed to participate in the massage. I felt that I had an opportunity to see him naked and erect again.

As his excitement mounted, an assistant came over and rubbed against him and removed his trousers. You can't see it on the video but he nodded his head in refusal, which didn't stop us. His boxers were also removed and while he was massaging Alex, we massaged this hot, athletic assistant's cock.

He started to get hard so the camera assistant grabbed his club and sucked it greedily. The excitement was so great that another bonus (not shown in this video) occurred but you can imagine it by seeing a very brief moment at the end of his cock sucking.

Alex who was being massaged more and more intensely had no idea what was going on behind him and yet. He sensed that the guys were very excited as the masseurs kept stroking the inside of this sporting goods agent's buttocks. His anus was being felt with such force that he tightened his buttocks for fear of a slip-up.

Meanwhile, the handsome sports assistant was the sex toy of our cameraman who jerked him off vigorously. He was resisting so as not to cum but the masseur in front of him was adding to it by caressing his beautiful chest and touching his beautiful nipples.

La vidéo d'Alex / 'Alex 's massage on :

---


Lors du tournage, un assistant canon et sportif s'est occupé de masser Alex avec l'aide de notre masseur préféré.

Comme vous pouvez le deviner, ce mec est un vrai sportif et surtout, beau et TBM ! Ce mec est déjà apparu de corps et de queue dans la vidéo de Jan. Il avait juré qu'il ne referait pas de vidéo où son corps serait mis à nu, où sa queue serait exposée malgré lui et où son jus de mâle serait tiré de ses grosses couilles malgré lui mais c'était une résolution qui n'a pas tenu avec le temps.

Nous lui avons proposé de venir nous aider une énième fois pour le tournage (il a participé aux dernières vidéos mais il n'apparaissait jamais) et cette fois-ci, le modèle lui plaisait tellement qu'il a accepté de participer au massage.

Là, j'ai senti que je tenais une occasion de le revoir nu en érection. Alors que son excitation montait, un assistant est venu se frotter contre lui et lui retirer son pantalon. On ne le voit pas sur la vidéo mais il a fait un signe de refus de la tête, ce qui ne nous a pas arrêté.

Son boxer aussi a été retiré et pendant qu'il massait Alex, nous avons massé la bite de cet assistant sportif et canon. Il a commencé à bander dur alors l'assistant caméra s'est saisi de son gourdin et l'a sucé goulûment. L'excitation était si forte qu'un autre bonus (non diffusé dans cette vidéo) s'est produit mais vous pouvez l'imaginer en voyant un très court instant à la fin de son pompage de bite.