Cedric gets sucked despite of him in a shower by Pascal.
Par Jean paul keumgay - Lien permanent
SEPTEMBRE - SEPTEMBER 2022

Click on the picture to watch the video teaser. - Cliquez sur l'image pour voir la vidéo promo.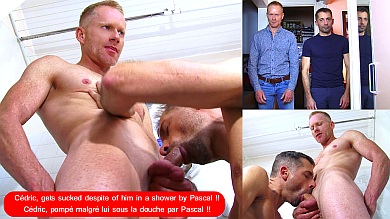 He was calm under the hot water when we decided to touch his beautiful sex with our hands. Pascal, who was watching this handsome, athletic male showering, became very excited and had a strong erection when he saw a hand jerk off Cedric's beautiful sex. He couldn't help but reach out and want to touch.

You can see Pascal enter the camera and guess a big shape under his blue boxers. I think that's when we lost control of our desires.


Pascal had such a hard-on that the cameraman pulled down his boxers to reveal his big cock. He was asked to join Cedric in the shower without asking the handsome blond athlete.

La vidéo d'Alex / 'Alex 's massage on :

---


Il était au calme sous l'eau chaude lorsque l'on a décidé de toucher son beau sexe avec les mains.
Pascal qui regardait ce beau mâle sportif se doucher a eu une forte excitation et une forte érection en voyant une main branler le beau sexe de Cédric.
Il n'a pas pu s'empêcher de s'approcher et de vouloir toucher.

Vous pouvez voir Pascal entrer dans le champs de la caméra et deviner une grosse forme sous son boxer bleu.
Je crois que c'est à ce moment là que l'on a perdu le contrôle de nos envies.

Pascal bandait si dur que le caméraman lui a baissé le boxer pour laisser apparaître son gros gourdin. On lui a proposé de rejoindre Cédric sous la douche sans demander l'avis au beau sportif blond.