Alex, handsome sales agent serviced by 3 guys in spite of himself. - Alex, un beau VRP TBF massé et branlé malgré lui par 3 mecs.
Par Jean paul keumgay - Lien permanent
JUILLET - JULY 2022

Click on the picture to watch the video teaser. - Cliquez sur l'image pour voir la vidéo promo.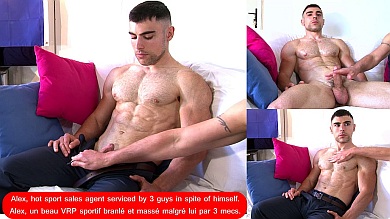 Alex, handsome sales agent serviced by 3 guys in spite of himself.

Alex is a handsome 27 year old sportsman who works as a salesman in the trade of articles for gym-clubs.

It was during a visit to a fitness club that we came across this guy, whom we approached just after he had taken a good collective shower and was therefore naked in full view of everyone, but don't worry, there were only two of us to see him in the simplest of clothes and what a piece of equipment!

He had never posed nude before so he was very hesitant when we asked him to do nude photos. It was when we offered him a massage that his attitude changed.

The more we got him naked, the more he enjoyed our massages of his beautiful chest and stiff cock.

La vidéo d'Alex / Ale's video on :

---
Alex est un beau sportif de 27 ans qui travaille comme VRP dans le commerce d'articles pour des salles de sport.

C'est lors d'une visite en club de fitness que nous avons croisé ce mec que nous avons abordé juste après qu'il ait pris une bonne douche collective, nous n'étions que deux à le voir dans le plus simple appareil.

Il n'a jamais posé nu avant de le faire pour nous donc il hésitait beaucoup quand nous lui avons proposé de faire des photos de nu. C'est lorsqu'on lui a proposé un massage qu'il a changé d'attitude.

Il est venu 2 jours après notre rencontre. Il a commencé à se laisser caresser sur le canapé ce qui l'a fait douter de notre sérieux. Il ne pensait pas que le massage commençait par cette partie de caresses où il était assis.

Il a fini par se laisser faire; Plus nous le mettions nu et plus il appréciait nos massages de son magnifique torse et de sa belle queue raide.