Marc, gets sucked by Cédric the fitness coach on a couch - Sucé par Cédric sur un canapé.
Par Jean paul keumgay - Lien permanent
JUIN - JUNE 2022

Click on the picture to watch the video teaser. - Cliquez sur l'image pour voir la vidéo promo.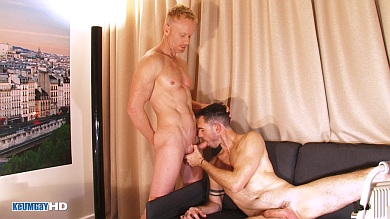 Marc, handsome insurrer gets sucked his huge dick by Cédric the fitness coach.

Here's the new video of Marc getting his beautiful muscular torso stripped and licked by Cedric. Watch as his big powerful cock is grabbed by the fitness trainer and pumped in spite of himself.

Marc thought about coming back for a solo but I asked another handsome guy for a little help. And as Marc was excited, he stripped Cedric and grabbed his good stiff cock for our pleasure.

Finally, a video shot where you can see Marc's big balls and his long dick in full view, to match his incredible length. This video has the merit of highlighting the magnificent bodies of these guys but also their sexual attributes.

You'll finally see them standing with a strong erection, their powerful muscles contracted and protruding.

La vidéo de Cédric / Cédric's video on :

---
Marc: sa grosse bite pompée sur un canapé !

Voici la nouvelle vidéo de Marc qui s'est fait dessaper puis lécher son magnifique torse musclé par Cédric. Regardez comme son gros gourdin puissant est saisit par le coach de fitness et pompé malgré lui.

Marc pensait revenir pour un solo mais j'ai demandé une petite aide à un autre beau mec. Et comme Marc était excité, il a déssapé Cédric et a saisit sa bonne bite raide pour notre plus grand plaisir.

Enfin un cadrage où vous verrez les grosses couilles de Marc en évidence et sa longue tige bien mise en valeur, à la hauteur de son longueur incroyable. Cette vidéo a le mérite de mettre en valeur les corps magnifiques de ces mecs mais aussi leurs attributs sexuels.

Vous les verrez enfin debout en forte érection, leurs muscles puissants contractés et saillants.