Marc sucked by Cedric a fitness coach, forced to suck our sexy assistant.
Par Jean paul keumgay - Lien permanent
JUILLET - JULY 2022

Click on the picture to watch the video teaser. - Cliquez sur l'image pour voir la vidéo promo.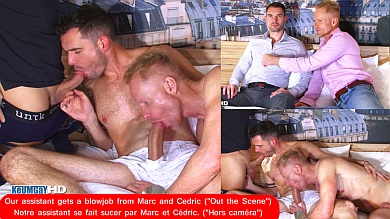 Marc forced to suck the big dick of our sexy assistant.

Here is the unseen part of the shooting.

Marc was very excited to get his dick sucked by Cedric and an equally excited assistant agreed to leave his good dick at Marc's disposal and he sucked this guy off.

Here is an unplanned scene that was done off-camera even though it recorded this moment of pumping good big dicks of virile and athletic guys.

La vidéo de Cédric / Cédric's video on :

---
Marc obligé de sucer la bonne bite de notre assistant sportif. ("Hors scène officielle")

Voici la partie inédite du tournage.

Marc était très excité de se faire sucer par Cédric et un assistant lui aussi excité a accepté de laisser sa bonne bite à la disposition de Marc qui a sucé goulûment ce mec.

Voici donc une scène inédite pas prévue qui s'est faite comme on dit hors caméra même si elle enregistrait ce moment de pompage de bonnes grosses bites de mecs virils et sportifs.