Marc, handsome insurrer gets sucked his huge dick by Cedric
Par Jean paul keumgay - Lien permanent
JANVIER - JANUARY 2022

Click on the picture to watch the video teaser. - Cliquez sur l'image pour voir la vidéo promo.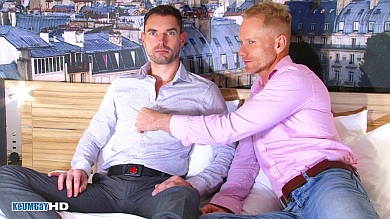 Marc, handsome insurrer gets sucked his huge dick by Cédric the fitness coach..

Cédric, the handsome fitness instructor came to see his videos but he arrived at the same time as Marc.

I was secretly hoping for a duet between these guys because with all the lighting in place, why not take advantage of a second guy to pleasure himself.

But nothing happened as planned. Marc let himself be fondled by Cedric who acted as his assistant while the cameraman participated in the stripping of Marc who as you can see is surprised to find himself in a shoot when he had not considered it.

Once Marc was naked and erect, his big cock was taken in hand by Cedric who began to suck him tastefully.

As you can see, Marc started fondling the camera assistant while Cedric sucked him off. It went much further and you'll find out in another video...

La vidéo de Marc / Marc's video on :

---
Marc, un assureur TBM pompé malgré lui par Cédric, le prof de fitness.

Cédric le beau prof de fitness est venu voir ses vidéos. Pendant qu'il arrivait j'ai reçu un message de Marc qui était de passage à Paris. J'espérais secrètement un duo entre ces mecs

heureusement rien ne s'est passé comme prévu. Marc s'est laissé caresser par Cédric qui a tenu le rôle d'assistant tandis que le caméraman a participé au déssapage de Marc qui comme vous pouvez le voir est désagréablement surpris de se retrouver dans un tournage.

Marc est devenu le mec dont on abuse du corps et de la bite de rêve. Une fois mis à nu et en érection, sa grosse bite a été prise en main par Cédric qui s'est mis à le sucer goulûment.

Comme vous pouvez le voir, Marc s'est mis à caresser l'assistant caméra pendant que Cédric le suçait. C'est allé beaucoup plus loin et vous le découvrirez dans une autre vidéo...