Pascal sales agent gets sucked his huge dick by Cédric the fitness coach
Par Jean paul keumgay - Lien permanent
DECEMBRE - DECEMBER 2021

Click on the picture to watch the video teaser. - Cliquez sur l'image pour voir la vidéo promo.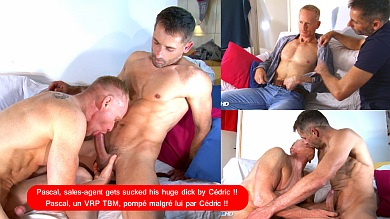 Here's his new video: Sexy, Muscular Marc GETS SUCKED his Big Cock IN A SHOWER.

Cédric, the handsome fitness coach, came to watch his videos. While he was coming i received a message from Pascal who was in Paris. He wanted to come and see his videos and i had no choice but to accept that he came, except that he arrived at the same time as Cedric.

I wanted to make a video with Cedric and i had talked to him about it so there was the possibility of making a video that day. When Cédric arrived i proposed to him to make a solo video but nothing went as planned. Cedric allowed himself to be fondled by Pascal who held the role of assistant, but very excited by this situation, he started to caress Pascal and wanted to lick his nipples.

Cédric's big dick was already stiff before Pascal was even shirtless.

La vidéo de Pascal / Pascal's video on :

---
Pascal, un VRP TBM pompé malgré lui par Cédric, le prof de fitness.

Cédric le beau prof de fitness est venu voir ses vidéos. Pendant qu'il arrivait j'ai reçu un message de Pascal qui était de passage à Paris. Il souhaitait passer voir ses vidéos et je n'ai pas eu le choix que d'accepter qu'il vienne au même moment que Cédric.

Quand Cédric est arrivé je lui ai proposé de refaire une vidéo solo mais je l'ai prévenu qu'il fallait attendre le passage de Pascal pour filmer une fois qu'il serait parti. Sauf que rien ne s'est passé comme prévu. Cédric a fini par caresser Pascal qui a tenu le rôle d'assistant, mais très excité par cette situation, il a commencé à caresser Pascal et à vouloir lui lécher les tétons.

Ce qui devait être un solo de Cédric devenait un solo assisté de Pascal qui au lieu de faire l'assistant est devenu le mec dont on abuse du corps de rêve. Comme vous pouvez le voir, Cédric était vraiment très excité. Sa bonne queue était déjà bien raide avant même que Pascal ne soit torse nu..