Marc handsome insurrer and Cedric the fitness coach.
Par Jean paul keumgay - Lien permanent
MARS - MARCH 2022

Click on the picture to watch the video teaser. - Cliquez sur l'image pour voir la vidéo promo.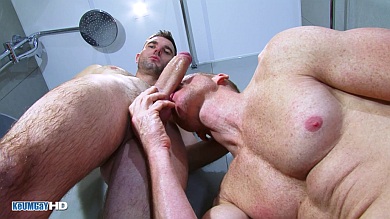 Marc, handsome insurrer and Cédric the fitness coach.

Here is the video of Marc and Cedric together in the shower.
A duo of big stiff cocks.
Marc was so turned on by the sight of Cedric's dream body that he got a hard-on.
He grabbed Cedric's cock and sucked him hard, but the fitness instructor wanted to swallow Marc's incredible hard-on that Cedric's mouth could hardly swallow.
A real mutual sucking duo in the shower.
As you can see, Marc started fondling the camera assistant while Cedric sucked him off. It went much further and you'll find out in another video...

La vidéo de Marc et cédric / Marc & Cédric's video on :

---
Marc, un assureur TBM pompé et pompeur avec Cédric un prof de fitness.

A real mutual sucking duo in the shower.
Voici la vidéo de Marc et Cédric ensemble sous la douche.
Un duo de grosses bites raides.
Marc était si excité par la vue du corps de rêve de Cédric qu'il bandait dur.
Il a saisit la bite de Cédric et l'a sucé longuement mais le prof de fitness avait envie de gober l'incroyable gourdin de Marc qui bandait sur dur que la bouche de Cédric avait du mal à tout avaler.
Un vrai duo de suce réciproque sous la douche.