Billy, get massaged and get wanked by us.(HD) --- Billy, un sportif espagnol rencontré à Londres, massé et branlé. (HD)
Par Jean paul keumgay - Lien permanent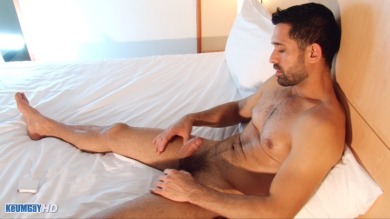 I went to London for a week-end, i was off but it seems i never can't stop to work because i was with my camera for to film London. It's on a app that i saw this guy. I sent to he a message for to have more naked pics about he and he sent them to me. I was excited! He was very hot on it and i've asked him about to do a porn-soft massage video and he asked me to join he on his sport club in London St Pancras. I went to his sport club and i paid for the day (expensive!!!!) to enter and use material. He was doing his sport and his muscles was very strong.

We talked about this video and he said only if we could do it after his sport, it meant now! I was ok to work during my day off. He followed me to my hotel room and i began the filming. I can say; i was excited thinking to touch his strong dick that i saw on his pictures.

As you can see, during i was wanking he, he put his hand on my jeans. He understood i was excited by he and horny, and he has touched my dick and he got me wanked. More he has touched my horny dick, more he was horny.

La vidéo de Billy / Billy's video on :


iiiiiiiiiiiiiiiiiiiiiiiiiiiiiiiiiiiiiiiiiiiiiiiiiiiiii FR iiiiiiiiiiiiiiiiiiiiiiiiiiiiiiiiiiiiiiiiiiiiiiiii

C'est lors d'un week-end à Londres que j'ai rencontré ce beau sportif espagnol. Je pensais me faire un bon week-end de détente en filmant quelque monuments; J'avais donc ma caméra avec moi. Pendant mes visites, je tchattais sur des apps de rencontres, et là, j'ai vu un beau monument qui ne figurait sur aucune carte touristique. C'est donc sur une app que je l'ai abordé pour lui demander plus de photos hot et j'avoue que je n'ai pas été déçu au point de lui proposer de poser nu en vidéo x (son gros et raide monument m'avait convaincu de lui faire une proposition de visite touristique de ma chambre d'hôtel). Il n'était pas sûr de mon sérieux alors il m'a proposé de se voir de suite à la salle de sport où il partait faire sa séance quotidienne, près de la gare de St Pancras à Londres.

J'ai accepté à la condition qu'il soit ok pour poser ce jour même car il ne me restait que l'après midi et le soir pour le filmer. J'ai dû payer l'entrée de la salle de sport pour la journée (c'est extrèmement cher!!!). Il était là, les muscles saillants, mon envie en était que plus grande. On a parlé, et il a compris que je n'étais pas un plaisantin et il a accepté de venir juste après son sport dans ma chambre d'hôtel.