Anthony, a real straight guy 29 y.o, get massaged for the 1srt time of his life by a guy. -- Anthony, un vrai hétéro de 29 ans, massé et presque branlé malgré lui..
Par Jean paul keumgay - Lien permanent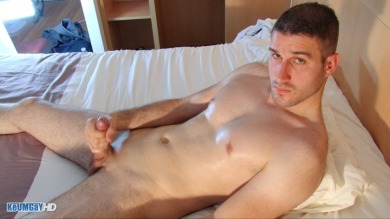 Anthony is a straight guy. I've meet him in Paris south, on a football (soccer) club, where he plays as amateur. In the real life, he his delivery guy for a very famous company made in France...

I had to meet him because a guy who ever made video for me knows this straight guy. I've explained him what kind of videos i made but he wasn't agree for to have more than a massage but he was ok to do a massage video only if nobody would touch his cock and balls. I've negociated and i was ok for a soft video...

He came and it's Ken, my favourite "French masseur"(guy who gives massage lol) who gave him a massage. Ypu can see in this video, Anthony has refused Ken to touch his dick and he has stoped the massage lots of time when Ken tried to do more than a "soft" massage under his football short.

It was really impossible to give a massage to the dick of Anthony. Ken has touched his dick under his short, but it happened maybe 2 secondes before he prevents us to go to next part of the video. He put off his short, and does the video alone, with no wank, no more massage. I wasn't happy to fail with this guy, but, now, i think you can really see that i don't lie when i publish here a text that say a model is straight.

La vidéo d'Anthony / Anthony's video on :


iiiiiiiiiiiiiiiiiiiiiiiiiiiiiiiiiiiiiiiiiiiiiiiiiiiiii FR iiiiiiiiiiiiiiiiiiiiiiiiiiiiiiiiiiiiiiiiiiiiiiiii

Anthony a 31 ans. C'est un vrai hétéro qui joue au football en tant qu'amateur. C'est une connaissance qui a déjà posé pour le site qui m'a refilé les coordonnées de ce mec afin de lui proposer de poser en vidéo. Cette connaissance n'avait pas précisé à Anthony le genre de vidéo que je faisais. je l'ai donc rencontré chez un mai et là, il a fallu se prendre la tête pour qu'il pose car il a vu les vidéos et il a refusé qu'un mec le branle ou même lui touche son sexe.

Je lui ai alors proposé un massage filmé en espérant qu'une fois excité il se laisserait branler. Il a accepté de poser pour une vidéo de massage, pas plus. J'en reviens toujours pas, un traumatisme lol.

C'est Ken, mon masseur préféré qui a massé Ce vrai hétéro. Lorsque Ken a commencé à masser sous le short de foot d'Anthony, ce dernier l'a arrêté en menaçant de se fâcher s'il continuait à dérapper. Pas de mencaces physique, mais plutôt celle de quitter la chambre où l'on filmait. Je pensais qu'en prenant du temps lors du massage, son excitation monterait (et je n'avais pas tort) mais en aucun cas celà ne l'a désinhibé.