Bryan get wanked for porn video ! - Bryan branlé presque malgré lui en vidéo !
Par Jean paul keumgay - Lien permanent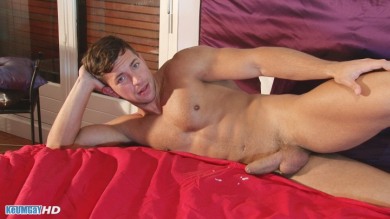 It's Vitor a friend that made videos for us who did contact me to propose to me a sport guy he knows. I was against to meet that guy, but all i knew about him, was his name, his job and from witch country he came. No more information, even not a picture of this guy.

He came to me with this guy and i was really good surprised to meet a real srtong sport guy that could make a video for me. Vitor told me that guy never made porn video before to come to me. Bryan dont speak english or french. I don't speak spanish, it was very difficult to explain to him what kind of video to do because Vitor has left the rendez-vous. I was alone with this guy. I showed him what kind of video i do (massage and wank) and he has refused to let a guy to touch and wank his dick. It seems he wasn't ready to do a porn video, but i think he needed money, maybe his sport job doesn't bring enought money?

La vidéo de Bryany / Bryan's video on :


iiiiiiiiiiiiiiiiiiiiiiiiiiiiiiiiiiiiiiiiiiiiiiiiiiiiii FR iiiiiiiiiiiiiiiiiiiiiiiiiiiiiiiiiiiiiiiiiiiiiiiii

Bryan a 24 ans. Il est argentin. Il pratique le foot assidument. C'est Vitor, un des modèles du site qui m'a appelé pour me proposer ce beau gosse très bien foutu. Au tel, il m'a fait la description de ce mec qui était de passage à Paris, mais il ne pouvait pas me fournir de photo.

J'ai proposé à Vitor de venir avec ce mec pour une rencontre et je n'ai pas été déçu. Lorsque j'ai vu Bryan, j'ai été emballé par sa virilité, par sa beauté et sa carrure. Seul problème: le langage. Vitor n'est pas resté lors du rendez-vous et il y avait une incompréhension. Bryan pensait qu'il ferait une vidéo solo, sans massage ni branle. Comme il ne parle pas un mot de français ni quasi pas un mot d'anglais, j'ai du lui expliquer comme j'ai pu qu'il fallait qu'il se laisse masser et branler. Il n'était pas d'accord du tout. Je lui ai montré des vidéos et là, il n'a pas voulu poser.

ca a été le début d'une énorme galère qui a duré jusqu'à ce qu'il parte. Terrible situation que de communiquer par des gestes. Comme il a vu que je ne cédais pas, il a finalement accepté de poser. Il s'est laissé masser mais il faisait la tête. Comme on peut le voir au début de la vidéo, il trouvait la situation génante et il se la pétait grave. Mais le massage a commencé à faire son effet et il a changé d'attitude.