Alex gets sucked despite of him by Sam the athletic assistant and the masseur.
Par Jean paul keumgay - Lien permanent


Click on the picture to watch the video teaser. - Cliquez sur l'image pour voir la vidéo promo.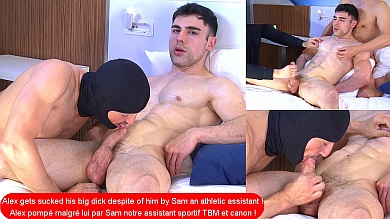 Here's the part of the shoot where the massage gets out of control. Sam our handsome athlete wasn't supposed to do anything but massage Alex, but he was so turned on by this jock's gorgeous body that he decided on his own to take care of this jock's cock.

As you can see, Alex was surprised but let himself go. Sam sucked Alex's good cock without even asking for his consent. You can see from Sam's muscular arms that Alex's cock was well in hand and in mouth.

Sam palmed and played with Alex's big balls. Another unforeseen event where an assistant, who wasn't supposed to be doing anything other than massaging, uses his mouth or sometimes his big cock to motivate the model to relax.

La vidéo de Alex abusé par 2 mecs. / Alexc's video where he gets serviced by 2 guys :



---


oici la partie de ce tournage où le massage dérape. Sam notre bel athlète ne devait pas faire autre chose que de masser Alex mais il était si excité par le corps magnifique de ce sportif qu'il a décidé seul de s'occuper de la bite de ce sportif.

Comme vous pouvez le voir, Alex est surpris mais se laisse faire. Sam a sucé la bonne bite de Alex sans même lui demander son accord. On peut voir aux bras musclés de Sam que la bite de Alex était bien en main et en bouche.

Sam a palpé et joué avec les grosse couilles de Alex. Encore un imprévu où un assistant qui ne devait pas faire autre chose que de masser, utilise sa bouche ou parfois sa grosse bite pour motiver le modèle à se détendre.