Marc the insurer serviced and sucked his huge cock by Alex and our assistant.
Par Jean paul keumgay - Lien permanent


Click on the picture to watch the video teaser. - Cliquez sur l'image pour voir la vidéo promo.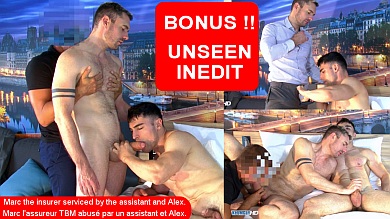 This video is the unseen part where Marc gets massaged despite him by our assistant during he got a blowjob to his huge dick by Alex. Marc thought he could be quiet with Alex but the assistant didn't let them to suck alone. He took the huge cock of Marc and sucked it a lot.

As you can see, Marc protests but nothing has changed : the assistant wanted to suck the huge dick of Marc and he did it as he wanted. This situation exicted so much Alex who watched the assistant sucking the hard dick of Marc without is agreement.

It's a very nice situation this action made by our assistant and the reaction of Marc is so nice that we couldn't hide this part no long time.

La vidéo de Marc abusé par 2 mecs. / Marc's video where he gets serviced by 2 guys :



---


Dans cette vidéo, Marc est massé et plus encore par notre assistant qui vient s'inscruter dans ce moment où Marc voulait être seul avec Alex. Malgré son refus et sa surprise que rien ne change, sa grosse bite a été saisie par l'assistant et il s'est fait pomper malgré lui. Cette situation a excité Alex qui ne cessait de regarder la grosse teub de Marc se faire pomper.

C'est une belle vidéo avec des actions inédites que nous ne pouvions pas vous cacher plus longtemps. Marc a été notre jouet sexuel !