David, le témoin du mariage pompé malgré lui (Nouvelle vidéo façon Edging-cum control) -- David : handsome wedding guy gets sucked his big cock in spite of him !
Par Jean paul keumgay - Lien permanent
Click on the picture to watch the video teaser. - Cliquez sur l'image pour voir la vidéo promo.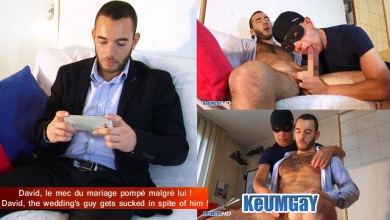 He is back for an edging-cumsot control video porn. woow!

Remember: "David, 28 y.o, a handsome guy found in a wedding serviced by us in spite of him.

This handsome guy works as camera operator. It's y friend who meet him down his building, at the door of a wedding reception room. David was boring and looked for to have a new experience...

My friend asked has talked to him outdoor the reception room and told him about king of filmed massage i do. He asked lot of quetsion and y friend told him what to do in the videos: to let him to get filmed and massage on video. He found the idea of a filmed massage really cool and said yes. I had to come quicly with my camera to join my friend at his home to film that guy. 45 mns after the meeting, i was there with my camera

He came to watch the video about him made by us. But he came a day where a guy should to pose on video. As the guy was on late, the masked masseur asked him to massage his fit muscled body but in fact, it's not a massage that he gave to him.

The masseur made something like an edging-cumshot control action. David didn't know about it but he took a big pleasure, because each time he was close to the cumshot, the masseur stopped to touch David's body parts. The cumshot is never came until the masseur has decided it after 1 hour of sensuality, suck and wank to the huge hard cock of this sexy guy of the weeding.

The masseur has added a new part of the edging (French edging like a french kiss lol). David wasn't agree to get sucked but the masseur has made grow the pleasure of this guy until he was too much excited to refuse a long suck session.

Myself, i didn't know about edging-cumshot control action before the masseur did it. All you can heard about David moans is true. I was very in a new sensation off full pleasure that he couldn't control. Try an edging action, i'm sure you'll never forget it. David told us that is was very very great..

La vidéo de David / David's video on :

---
Souvennez-vous: " C'est mon ami le masseur qui a trouvé ce mec un samedi midi en bas de chez lui. Il était dehors à attendre ou à s'ennuyer, lors d'une cérémonie d'un mariage où il était l'un des garçons d'honneur.

Mon pote a osé l'aborder pour lui parler et vu comme il semblait sympathique il lui a parlé de massages filmé. David a voulu en savoir plus car il adore les massages. Mon ami le masseur lui a parlé d'un massage filmé pour un site mais ne lui a pas dit que ça dérappait en un massage branle...

David a trouvé l'idée du massage plaisante, il a demandé à voir et mon pote m'a appelé pour savoir si j'étais disponible de suite. Je suis venu en 45 mns et j'ai pu filmer ce mec sexy.

Comme vous pouvez le voir, les éclairages sont mal placés. On les voit souvent dans le champs de la caméra mais c'est parce que je n'ai pas eu le temps d'installer correctement mon matériel. David avait peu de temps car son après midi devait se passer dans une salle des fêtes.

Il est revenu pour voir sa dernière vidéo mais il ne s'attendait pas à ce qu'un tournage soit prêt pour un mec qui était en retard. Il ne venait pas pour poser mais le masseur masqué a proposé un moment de détente qui en fait ne s'est jamais réalisé.

Il n'avait pas envie de refaire une vidéo, il s'était senti forcé la dernière fois mais le masseur a su le convaincre en lui donnant un massage façon Edging, c'est à dire en provoquant une excitation sans jamais aller jusqu'à la fin ou presque.

David s'est laissé caresser les tétons puis sa grosse queue car à force de le toucher sensuellement, l'excitation est si forte qu'elle devient incontrolable. C'est à ce moment là que le masseur s'est saisi du gros gourdin raide de David et l'a pompé goulument.

David était trop excité pour refuser d'être le jouet de ce masseur âgé. Il ne voulait pas qu'on le suce mais il prenait un tel plaisir qu'il s'abandonnait à ces attouchements qui font monter la pression dans sa grosse queue de mâle viril.

Le edging cumshot control consiste à masturber un beau mec bien foutu et surtout bien monté jusqu'à ce qu'il soit sur le point de jouir et d'arrêter de suite l'action afin d'empêcher que cela se produise. En répétant cette action plusieurs fois, le plaisir est décuplé et quand le mâle branlé peut enfin jouir, il dépasse toute la jouissance qu'il a pu connaître jusqu'à ce moment là. C'est une explosion de plaisir.

Nous l'avons fait à la française : massage de ses tétons sensibles, masturbation et suce aléatoires afin que jamais il ne fatigue et que sa queue ne souffre pas de tous ces mouvements. Le sucer goulument fait partie de notre version du Edging et c'est ce tout qui l'a fait gémir de cette façon si masculine pour un mec qui ne peut plus controler son plaisir, s'en étant remis à la décision d'un autre.