Kevin, un beau pompier tbm branlé malgré lui. Kevin : handsome firefighter gets wanked his big cock in spite of him !
Par Jean paul keumgay - Lien permanent
Click on the picture to watch the video teaser. - Cliquez sur l'image pour voir la vidéo promo.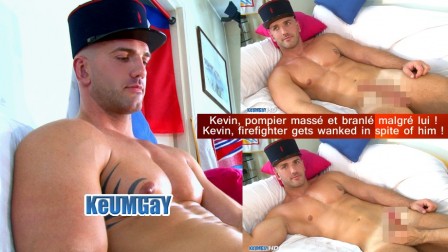 This sexy french firefighter made a porn for us ! woow!

I've crossed him in a gym club. I've waited for he takes a shower to meet him and ask him to do a filmed massage. This strong guy needs clear things and i had to tell him how happens the massage on video.

Surprised by my fair asking but not against to let him to get massaged and more on video. He call me 7 days after and he came to do this video. I was excited to massage his strong muscles. I was excited by the idea to touch more and more but i couldn't massage his ass : he clearly refused to do this part.

La vidéo de David / David's video on :

---
C'est un beau mec que j'ai rencontré dans une salle de sport où en principe je n'ai pas le droit d'aller, non pas à cause de mon activité mais parce que ce n'est réservé que pour des beaux mecs comme lui... C'est un passe-droit qui m'a permi de croiser ce beau mâle.

J'ai attendu la fin de sa séance pour l'aborder sous la douche commune. Quel bonheur de matter un si beau mec sous l'eau chaude. Il aime les choses claires alors j'ai du lui préciser ce que signifiait un massage filmé. Il a accepté et il m'a appelé 7 jours après pour faire cette vidéo.

Quand je l'ai vu torse nu, je n'en croyais pas mes yeux. (Il est grand en plus, très grand, quel homme !!!) Mais le meilleur est à venir. J'ai pu masser ces pecs de rêve et surtout son pack d'abdos solides et fermes. J'étais hors de moi à tel point que je ne savais pas s'il j'allais pouvoir continuer la séance bien longtemps.