Seb my neighbour with a huge dick gets sucked in by Alex.
Par Jean paul keumgay - Lien permanent


Click on the picture to watch the video teaser. - Cliquez sur l'image pour voir la vidéo promo.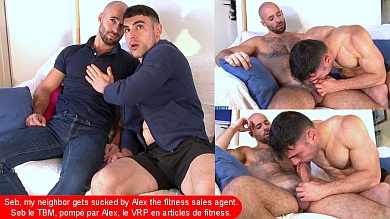 As I suggested the massage, Alex told me that he didn't have much time and that he'd rather touch the bearded guy who was going to be our assistant. Seb wasn't keen because he hadn't come to do another video. He didn't want to pose with another guy but Alex is so muscular that Seb let himself be massaged and more by this sports goods sales agent. As you can see, there was a misunderstanding. Alex seems lost in front of the camera because ...

Alex's idea was to have fun with Seb off camera and then move on to a filmed massage, but I insisted with the other cameraman that everything be filmed and that it become a video between two handsome guys. Alex wasn't comfortable, so we had to guide him into the unexpected role of assistant. As you can see, Seb got hard very quickly and very hard.

La vidéo de seb et Alex. / Seb and Alex :



---


J'ai demandé à Seb de venir m'aider à masser Alex qui revenait poser pour une vidéo. Alex voulait un massage à 4 mains et Seb n'était pas contre donner un coup de main mais c'est un coup de sa grosse bite qu'il a donné à Alex.

Alors que je proposais le massage, Alex m'a dit qu'il n'avait pas beaucoup de temps et qu'il préférait toucher le mec barbu qui allait être notre assistant. Seb n'était pas chaud car il n'était pas venu pour refaire une vidéo. Il ne voulait plus poser avec un autre mec mais Alex est si bien musclé que Seb s'est laissé masser et plus par cet agent de vente d'articles de sport. Comme vous pouvez le voir, il y a eu un malentendu. Alex semble perdu face à la caméra car ...

L'idée d'Alex était de s'amuser avec Seb hors caméra et de passer ensuite à un massage filmé sauf que j'ai insisté avec l'autre caméraman pour que tout soit filmé et que celà devienne une vidéo entre deux beaux mecs.