Sam the athletic assistant gets sucked despite of him by an Alex and another guy.
Par Jean paul keumgay - Lien permanent
AOUT - AUGUST 2023

Click on the picture to watch the video teaser. - Cliquez sur l'image pour voir la vidéo promo.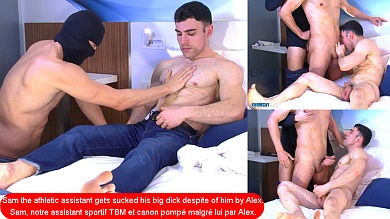 While we were supposed to be filming Alex's massage, our assistant preferred to play with this handsome jock's cock and big balls. As you can see, Alex is uncomfortable and tries to escape the look of our handsome jerk-off helper because, let's face it, our assistant is a handsome male jock and TBM.

Alex gave in and our assistant jerked him off in spite of himself. But after provoking a lot of excitement, our 2nd assistant took the initiative to get behind our handsome sports assistant and pull down his boxer shorts to show Alex his long cock and big balls, which Alex began to stroke.

Alex was eager to pump this handsome guy and this was the perfect opportunity to have some fun with a handsome athlete. He grabbed Sam's cock and sucked hard while the 2nd assistant stroked Sam's big pecs and then his big, juicy balls that were just begging to come out of his big cock.

We milked Sam's long, thick cock while Alex sucked him off and then jerked him off until he ejaculated on Alex's muscular torso, which he loved receiving the semen from this handsome, virile jock.

La vidéo de Alex sucé par Sam / Alex gets suced by Sam :

---


Alors que nous devions filmer le massage d'Alex, notre assistant a préféré jouer avec la queue et les grosses couilles de ce beau sportif. Comme vous pouvez le voir, Alex est mal à l'aise et cherche à fuir le regard de notre bel aide de branle car il faut vous le dire, notre assistant est un beau sportif masculin et TBM.

Alex s'est laissé faire et notre assistant l'a tout de même branlé malgré lui. Mais à force de provoquer une forte excitation, notre 2em assistant a pris l'initiative de se mettre derrière notre bel assistant sportif et de lui baisser son boxer afin de montrer sa longue bite et ses grosses couilles à Alex qui s'est mis à le caresser.

Alex avait très envie de pomper ce beau mec et c'était là l'occasion rêvée de s'amuser avec un bel athlète. Il a saisit la bite de Sam et l'a pompé à fond pendant que le 2em assistant caressait les gros pecs de Sam puis ses grosses couilles pleine de jus qui ne demandait qu'à sortir de sa grosse bite.

Nous avons trait la longue bite épaisse de Sam notre assistant pendant qu'Alex le suçait puis nous l'avons branlé jusqu'à éjaculation sur le torse musclé d'Alex qui a adoré recevoir la semence de ce beau sportif viril.