Alex gets sucked in a shower by our gorgeous athletic assistant.
Par Jean paul keumgay - Lien permanent
JUILLET - JULY 2023

Click on the picture to watch the video teaser. - Cliquez sur l'image pour voir la vidéo promo.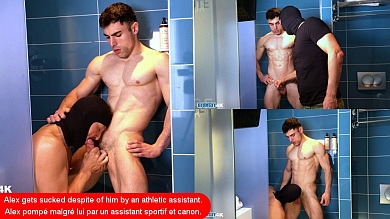 I offered Alex a massage. He came and after the massage he took a shower. As you can see, it's while he was already taking a shower that the video begins, because our gorgeous sports assistant wanted to touch Alex's body and especially massage his big cock, which started to become hard.

As you can see, Alex is embarrassed but gives in. His good, quick handjob is given by the powerful, virile hands of our assistant, who is a purely handsome, well-endowed, masculine man with a big cock that you've seen in another video where he gets his dick sucked while Alex gets a massage.

It's his big cock that is being jerked off by our other sports assistant who is cumming all over Alex's body.

Sam, our sports assistant, suddenly reached down and sucked Alex's hard cock, which surprised him. All this can be seen on the video. It was a really unexpected thing that happened without any preparation. It was Sam's decision alone to wank Alex and then suck him off.

La vidéo de Alex sucé par Sam / Alex gets suced by Sam :

---


J'ai proposé un massage à Alex. Il est venu et après le massage il est allé prendre une douche. Comme vous pouvez le voir, c'est alors qu'il était déjà en train de se doucher que la vidéo commence, car notre magnifique assistant sportif a voulu toucher le corps d'Alex et surtout masser sa grosse bite qui s'est mise à durcir.

On peut le voir, Alex est gêné mais se laisse faire. Sa bonne vite se fait branler par les mains viriles et puissante de notre assistant qui est un pur beau mec bien foutu, masculin et avec une grosse bite.

Sam notre assistant sportif s'est subitement abaissé et à sucé la bonne bite raide de Alex qui a été surpris. Tout cela est visible sur la vidéo. C'est un vrai imprévu qui s'est fait sans aucune préparation. C'est Sam qui a décidé seul de branler Alex et de le sucer ensuite.