Marc a sexy insurrer GETS SUCKED in spite of him OUT THE SCENE.
Par Jean paul keumgay - Lien permanent
OCTOBRE - OCTOBER 2021

Click on the picture to watch the video teaser. - Cliquez sur l'image pour voir la vidéo promo.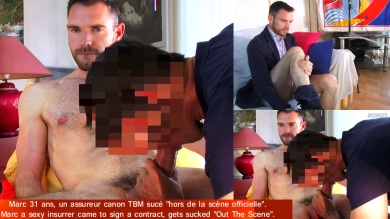 Here's his new BONUS video: Sexy, Muscular Marc GETS SUCKED his Big Cock Out The Scene!!

By dint of being massaged and then jerked off this very big cock, we ended up gobbling up his big stiff rod that was stretched out in front of us. One of the masseurs was very eager to get a taste of a good dick and this was the opportunity to get a taste. Marc couldn't believe it.

As you can see in the video, at the moment he is offered a blow job, he is embarrassed, he smiles but as he is caught off guard, he doesn't refuse but you can tell he wasn't willing to let his big dick be available for a guy's mouth.

The camera was rolling during this unexpected event which we offer you here in so-called "off camera" video which means unofficial.

Watch this handsome jock enjoy getting his big fat dick sucked. For him, this was unheard of and yet he loved it. Look at his huge balls moving around while his cock is our toy. You can tell that by the amount of sucking he's getting, he's enjoying it.

La vidéo de Marc / Marc's video on :

---
Voici sa nouvelle vidéo BONUS dans laquelle il se fait pomper goulûment son énorme gourdin de mâle.

A force de se faire masser puis de se faire branler cette très grosse bite, on a fini par gober son gros gourdin raide qui se tendait devant nous. Un des masseurs avait très envie de goûter à une bonne bite et c'était l'occasion de se faire plaisir. Marc n'en revenait pas.

Comme vous pouvez le voir dans la vidéo, au moment où il lui est proposé de se faire sucer, il est gêné, il sourit mais comme il est pris au dépourvu, il ne refuse pas mais on sent qu'il n'était pas disposé à laisser sa grosse bite à disposition de la bouche d'un mec.

La caméra tournait durant cet imprévu que nous vous offrons ici en vidéo dite "hors caméra" ce qui signifie non officielle.

Regardez ce beau sportif prendre du plaisir à se faire gober son bon gros gland. Pour lui, c'était inédit et pourtant il a adoré ça. Mattez ses énormes couilles bouger dans tous les sens pendant que sa queue est notre jouet. On le voit qu'à force de se faire têter, il prend du plaisir.