Seb, my handsome neighbour serviced in spite of him by a guy in suit ! -- Seb, mon voisin sexy pompé malgré lui par David, le mec en costume.
Par Jean paul keumgay - Lien permanent
Click on the picture to watch the video teaser. - Cliquez sur l'image pour voir la vidéo promo.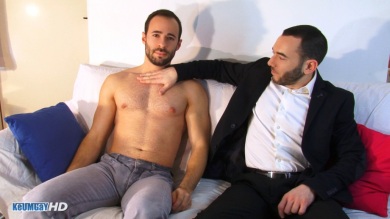 David is the guy in the wedding suit, and he was invited to see the video which had been made some time ago with him and another guy. However, things started to unfold in an unplanned direction when Seb dropped by!

The director wanted David to jerk off his own cock and Seb was supposed to just watch the video on the TV while the director wanted to wank both David and Seb. However, David took charge and wanked Seb's big thick cock. A little later Seb also gets a blowjob by the sexy guy in the wedding suit (David).

It seems that David totally enjoyed playing with Seb's huge and powerful cock, he took his time to appreciate that strong piece of manhood and to check it out from all angles. Seb was also turned on very much by David, and couldn't help but returning the favor and sucking David's cock as well.

La vidéo de David et Seb / David & Seb's video on :

---
David est passé voir sa dernière vidéo dans laquelle il se fait sucer par un mec mais une surprise est arrivée sous la forme de Seb qui est venu voir sa vidéo.

J'ai proposé à ces mecs de faire un duo et j'avais en tête que David se laisse pomper sauf que rien ne s'est passé comme prévu car c'est David qui a imposé ses règles.

Seb n'en revenait pas : il a vu son torse musclé massé puis léché par David et puis sa grosse queue raide se faire pomper goulûment par ce mec en costume qui avait envie d'aller à l'essentiel sans se poser de question.

Seb ne s'est pas laissé faire et il a fini par reprendre le dessus et jouer avec la grosse queue et les grosses couilles pleines de David.