Michael, a sport guy massaged and wanked by a guy. -- Michael, un très bogosse sportif massé et branlé. (April-may 2012)
Par Jean paul keumgay - Lien permanent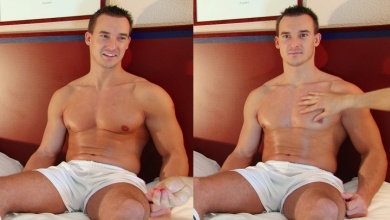 Michael, a sport guy massaged and wanked by a guy.

I've meet this guy on a sport club. For me, it's the best place to find some cute great building body guys and this time, i've found the most exciting guy of the year, i'm 100 % sur that is THE keumgay model of the year. When i meet Michael, he was doing his sport. I waited for he has finished and goes to take his shower to ask him about to do video for me. It seems he ever made hot porn video that you can find in our pages (2 videos where he is top and bottom, video made when he was more younger than now ;).

La vidéo de Michael / Michael's video on :


iiiiiiiiiiiiiiiiiiiiiiiiiiiiiiiiiiiiiiiiiiiiiiiiiiiiii FR iiiiiiiiiiiiiiiiiiiiiiiiiiiiiiiiiiiiiiiiiiiiiiiii

Michael, un très bogosse sportif massé et branlé.

C'est encore une fois lors d'une sortie dans une salle de sport que jai pu voir et aborder ce très beau mec sportif. Il a 28 ans, il est célibataire. Il vient de Hongrie.

Comme il faisait son sport avec 2 autres bogosses, j'ai préféré attendre une occasion de l'aborder pour lui parler du site et des vidéos faites. C'est après sa douche que j'ai pu lui parler, même si ses 2 amis étaient là à écouter ma proposition alléchante. Il était emballé par l'idée de faire une vidéo x de massages-branle mais il souhaitait par prudence que ses potes viennent avec lui, ce qui n'est pas possible, sinon un tournage devient ingérable.

Il est venu seul et on a commencé la vidéo. A peine je massais autour de son sexe qu'il était en forte érection. Ca fait plaisir de ne pas laisser insensible un aussi beau mec. Il souriait beaucoup pendant la vidéo, il était vraiment à l'aise.