JUILLET - JULY 2021

Click on the picture to watch the video teaser. - Cliquez sur l'image pour voir la vidéo promo.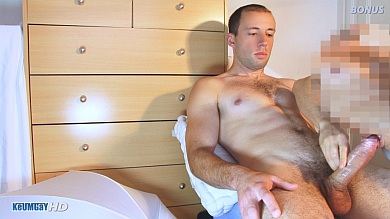 Sebast, TRUE straight fireman gets sucked out of the scene.

This is an unseen video where this handsome hetero guy let us to suck his huge cock in spite of himself!! Here's his never-before-seen video, "pumped" despite of himself!

In what is called off-camera, he got his big dick gets sucked and he had no choice but to let it happen.

As you can see, he was embarrassed, but he got his big cock sucked so well and for so long that he ended up abandoning his cock to the assistant's mouth. See how powerful and stiff his cock is.

He was surprised by this unforeseen event but by dint of being masturbated and pumped well, he ended up taking real pleasure given by a man as you can see at the moment when he surrenders himself totally to the mouth of the masseur.

This video has never been published. It's a 100% UNSEEN video bonus just for you.

La vidéo de Sebast /Sebast's video on :

---
Sebast hétéro pompé malgré lui Hors caméra.

Dans ce qu'on appelle le hors caméra, il s'est fait pomper sa grosse bite et n'a pas eu le choix que de se laisser faire.

Comme vous pouvez le voir, il était gêné, mais il s'est fait sucer sa grosse bite si bien et si longtemps qu'il a fini par abandonner sa bite a la bouche de l'assistant. Voyez comme sa bite est très puissante et raide.

Il a été surpris par cet imprévu mais à force de bien se faire masturber et pomper, il a fini par prendre du vrai plaisir donné par un homme comme on peut le voir au moment où il s'abandonne totalement à la bouche du masseur. Il a essayé de contrôler la situation jusqu'au bout.