Arnaud 33 Y.O, a real straight strong guy wanked by me. --- Arnaud, un vrai hétéro branlé malgré lui!
Par Jean paul keumgay - Lien permanent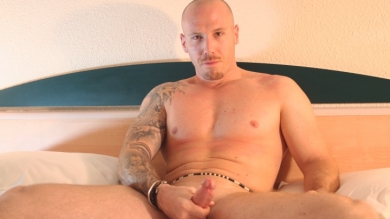 I've. meet this guy in my sportclub. Since 6 months, i was crossing Arnaud doing his sport in the same time than me and in the last weeks of november, we talked about sport. I never thought about him to do a video for me, that's why i never thought i could speak to him about my work but...

I was surfing in the web when i found a website with straight guys in video fubcking girls. 3 guys on a girl. And i saw arnaud!! This guy makes some amateur videos for his pleasure with friends. They find girls like i find guys, in sport club or in the street. I was so surprised about this discovert, that i've decided to talk him about his videos. And as i saw his large dick on his videos, i was excited and ready to ask him to pose for me.

1 month after, i've crossed him at sport, and i have asked him about his videos and to do one for my website. His answer was no, sorry, i'm not gay, i'm not against gays, but it's really not my need to do it with a guy. I did explained to him it was just for the fun, and he finaly came to see my work. When i saw guys wanked by me, i has refused to do video. Massage, and wank by me wasn't his need.

I tried lots of arguments and i felt he wasn't 100% against to pose for me, but as a real straight guy, never a guy touched his body and his dick, and his morality was not ready to "opened" by a guy. After 30 mns of explanation, he was less against, but he said me that he couldn't be horny if i tried to touch his body. I asked to to let me do it, and if the result is bad, i will stop massage and he said yes. Beleive me, it was my most difficult guy to make to accept my massage.

La vidéo d'Arnaud / Arnaud's video on :


iiiiiiiiiiiiiiiiiiiiiiiiiiiiiiiiiiiiiiiiiiiiiiiiiiiiii FR iiiiiiiiiiiiiiiiiiiiiiiiiiiiiiiiiiiiiiiiiiiiiiiii

C'est en salle de sport que j'ai connu ce mec viril et maxculin de 33 ans. Depuis 6 mois, je le croise régulièrement à ma salle de sport. Récemment on a enfin un peu parlé, mais bien sûr que de sport et jamais je n'aurais osé lui parler de mon boulot ni même lui proposer de poser pour mon site et pourtant..

En surfant sur internet sur des sites amateurs français de vidéo d'hétéros, j'ai trouvé un site où il y a des vidéos d'Arnaud qui se tape avec 2 autres mecs une nana. J'ai été surpris et par la même excité. j'ai vu son gros sexe et son corps en action! J'ai décidé de l'aborder en salle pour lui parler de cette trouvaille, j'avais envie de le faire poser, donc j'ai pris un risque.

Un mois après, je l'ai recroisé à la salle et je lui ai parlé de ses vidéos et de mon taff. Il était pas du tout chaud pour poser pour un autre mec et encore moins pour poser pour un site gay ni même se laisser masser. J'ai pourtant apporté de bons arguments €€€ et il a voulu voir mon taff. C'est un mec sympa, donc avec lui on peut parler de tout, mais il est vraiment hétéro de base, donc pas gay friendly surtout si ça vire au sexuel, ce qui est normal pour un accro aux plans vidéos avec des nanas.

Lorsqu'il a vu mon taff, les vidéos où les mecs se font branler il m'a dit qu'il ne pouvait pas faire ça, que c'était pas du tout sa capacité morale d'aller aussi loin et pourtant, plus on parlait et plus il avait quand même envie de poser en solo. Je lui ai apporté des arguments sur un plateau durant plus de 30 mns et il n'arrêtait pas de me dire qu'il n'arriverait jamais à bander si un mec le touche. On a quand même tenté de faire une vidéo de massage pendant qu'il regardait une de ses vidéos x avec une nana. Quand je l'ai massé au niveau du sexe, il m'a bloqué mais j'ai pu le rassurer et là, il a commencé à bander dur.