Vincent, vrai pompier hétéro pompé par un mec - Vincent, real french straight fireman sucked by a guy !
Par Jean paul keumgay - Lien permanent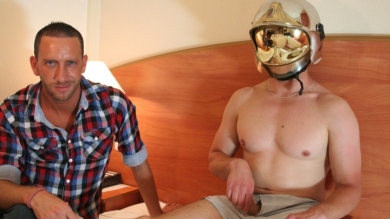 Vincent, a real straight fireman wanked and sucked by a guy guy, in spite of he on a video (HD!)

Remember this masked guy: His all 1srt time on video is avaible in our archeive videos part. Never before we have asked him, he let him to be filmed naked for a porn video.

He didn't know a guy will wank him, and finaly, he let the gay gay play with his dick. After this massage and wank video, he said to me, that he won't do a new video if a guy touch him...

He came back for to do a new solo video and this time, he took his fireman's helmet. As you know, he don't wank his face to be seen. My favourite assistant helped me to take picture during the video, but this assistant, Jerem is a hot guy and never he let a straight guy alone on video. He loves to touch straight guy and more. Vincent wasn't ok to be touched and wanked, but i did insist and finaly, Vincent did accept that Jerem wank him.

I have been very surprised when Jerem has began to suck this real straight fireman. I was afraid Vincent to leave the room, but it seems that Jerem know very well how to suck as a king, and excited by the situation, Vincent let Jerem to play and suck his nice long dick. I was 100% horny, and if i could, i would suck myself this straight guy, because he is so sweet when you can hear him jerking-off. His voice means he took please when his sperm drop a lot. After this video, Vincent told me that he took pleasure! Yes, this guy found this situation exciting!

La vidéo de Vincent et Jerem / Vincent and Jerem's video on :


iiiiiiiiiiiiiiiiiiiiiiiiiiiiiiiiiiiiiiiiiiiiiiiiiiiiii FR iiiiiiiiiiiiiiiiiiiiiiiiiiiiiiiiiiiiiiiiiiiiiiiii

Vincent, un vrai sapeur-pompier de paris, branlé et pompé malgré lui ! (HD)

Vous vous souvenez certainement de Vincent, ce vrai pompier d eparis hétéro qui s'était fait masser par Ken et dont le massage avait dérappé au point qu'il se soit laissé branlé malgré lui? Il avait pourtant refusé qu'un mec lui touche la bite, mais on avait réussi cet exploit que de pouvoir jouer avec sa queue jusqu'à ce qu'il décide de se finir seul.

Il est venu poser pour un solo et il m'a bien précisé que cette fois-ci, il refuserait un massage pour éviter que ça dérappe. J'ai juste imposé que mon assistant du moment, Jerem soit là pour m'aider à prendre des photos. Bon, vous l'avez compris, j'avais une idée en tête: faire en sorte que Jerem puisse le branler, au cas où mais ça s'est passé autrement.

Vincent est venu avec son casque de sapeur-pompier. On peut y voir mon reflet par moment d'ailleurs. J'ai trouvé l'idée du casque sympa, mais en fait, Vincent a trouvé qu'on le reconnaissait un peu avec une écharpe d'où sa volonté de cacher sa nuque d'hétéro viril. jerem a commencé à prendre des photos et à force d'approcher de près ce bel hétéro, il a osé profiter de moments pour choisir les poses de Vincent, pour le caresser, lui toucher son beau torse. Vincent a fortement repoussé Jerem et j'ai senti que ça risquait de mal finir. Jerem a compris qu'il fallait laisser venir l'excitation au cas où et à force de toucher Vincent, celui-ci a finalement accepté de petits débordements pas du tout prévus!